He has an excellent point.
EDITORIAL
We Can See That Judges Matter
By Maureen Rudel

In the recent case of Kelo v City of New London, the United States Supreme Court held in a 5-4 decision that municipalities can use eminent domain, the power of condemnation of property, to promote economic development. In other words, if the government thinks it can take your property and give it to another private party who will pay more taxes, that is just fine with the majority of the Court.
People in Michigan should not be horrified by this decision. It sprang, fully formed, from the Michigan Supreme Court when it was controlled by liberal judges many years ago. It happened to Poletown. The City of Detroit condemned private homes in Poletown to give the property to General Motors to build a plant. There was no pretense that this would be a "public use" as is required in both the state and federal Constitutions. The case went up to the Michigan Supreme Court, which ruled, in 1981, that the public benefit from the plant justified the taking of these private properties. It was the Poletown case which led to the kind of taking upheld in Kelo.
However, in July of 2004, the Michigan Supreme Court, in the case of Wayne County v Hathcock, now dominated by judges who believe in interpreting law, not making it, reversed the Poletown case and held that it violated the state's 1963 Constitution.
Wayne County was trying to condemn property near Metro Airport for a high technology park. Some of the residents did not want to sell, so the County tried to condemn their property.
"The county is without constitutional authority to condemn the properties," the court's opinion read. All seven justices voted to overturn Poletown, although three dissented over some technical aspects that do not affect the main ruling.
Justice Robert Young, who wrote the lead opinion, called the 1981 case allowing Detroit's Poletown neighborhood to be cleared for a GM plant a "radical departure from fundamental constitutional principles."
"We overrule Poletown," Young wrote, "in order to vindicate our constitution, protect the people's property rights and preserve the legitimacy of the judicial branch as the expositor, not creator, of fundamental law."
So, in Michigan, we are presently protected from having our property taken to give to someone else who will pay more in taxes. But, if we, like the United States Supreme Court, end up with judges who decide to write law, not interpret it, we could be in danger again.
EDITORIAL
A Close Look at Gun Control Advocates
By Maureen Rudel

As the FBI comes out with its most recent report showing that the violent crime rate has fallen again, except in a few big cities, the gun-grabbers are trying to revive the foolish "Assault Gun Ban" which expired last year.
Let's go back historically to the gun ban efforts. They started in the post-Civil War south, when white Southerners were trying to make sure that blacks could not fight back against white hate groups like the Ku Klux Klan. They migrated north in the 1930's when large groups of black Southerners came north for jobs in the auto plants.
Remember, in Michigan, until the recent "Shall Issue" law for Concealed Carry Weapons (CCW), the sheriff, prosecutor and a Michigan State Police official would decide who could carry a gun. Do you think that many blacks were issued permits in white dominated cities? How about in the first half of the 20th Century?
Remember that the next round of gun control came after the race riots of the late 1960's. The object of these was to get guns out of the hands of blacks. It worked very well to keep guns out of the hands of law-abiding blacks and whites.
While those who trumpet gun control, Diane Feinstein, Barbara Boxer, Carl Levin, Debbie Stabenow, Charles Schumer, George Soros and like-minded individuals live in gated, wealthy, well-protected or well-policed neighborhoods, and have no fear of nightly gun battles on their streets, they condemn others to death. It is undisputed that the highest number of violent crimes are commited by blacks against blacks. But, in city after city, and in particular, Washington, DC, law-abiding blacks are prohibited from defending themselves. They are supposed to call 9-1-1 and wait for the police -- who can fill out a report or take the victim to the hospital or the morgue.
What I don't understand is why these white Liberals haven't gotten over the racist urge to make sure that blacks (as well as the rest of us lowly peons) cannot defend our homes and lives.
Remember, The Second Amendment was not adopted to make sure people could go deer hunting in the fall. It was adopted to recognize our natural right to protect ourselves from harm by individuals or the government. Like all of our natural rights which are recognized in the Bill of Rights, they do NOT come from government and cannot be taken by government unless our Constitution is destroyed.
EDITORIAL
Now Is the Time to Plan
By Maureen Rudel

On May 23, 2005, a travesty occurred. For four years, Carl Levin and Debbie Stabenow have kept the 6th Circuit Court of Appeals at 75% strength for partisan and personal reasons. Four of President Bush's Michigan nominees who have been waiting for a vote -- all of whom are highly qualified -- have been deprived of that vote by the Democrats' filibuster.
A group of 14 senators, "moderates", as hailed by the press decided to throw out the Michigan nominees as trash in their haste to grab the praise and cameras of the mainstream media. The people who have been sacrificed and vilified meant nothing to them.
Some of these self-congratulating senators plan to run for president in 2008. I wonder how they would react to their nominees being treated in the same way.
Michigan Republicans need to rethink the presidential nomination system. At the present time, Democrats choose their candidates in party caucuses. Democrats and other non-Republican voters also choose the Republican candidates. This is ridiculous. No wonder they call Republicans the "stupid party."
Not only does this farce cost the state of Michigan a bunch of money, it can result in county parties trying to find someone to go to the convention to support someone that not one of the delegates supported. It makes the State Convention a joke, and gives no one a reason to go.
It's time for Republicans to choose their candidates in county caucuses as well. We will get candidates who are supported by the party and bring some life and purpose to the conventions. It worked well for a lot of years. Let's starting making it happen so we don't end up with a Republican candidate whose arm is sore from patting himself on the back for feeding four Michigan judges to the wolves.
GUEST COLUMN
Wear Red on Fridays
By Eldon Teall, Hale, Michigan

You will soon see a lot of people wearing Red on Fridays. Here's why:
The Americans who support our troops, are the silent majority. We are not "organized" to reflect who we are, or to reflect what our opinions are. Many Americans, like yourself, would like to start a grassroots movement using the membership of the Special Operations Association, and Special Forces Associations, and all their friends, simply, to recognize that Americans support our troops. We need to inform the local VFW's and American Legions, The Vietnam Vets, our local press, local TV, and continue carrying the message to the national levels as we start to get this going.
Our idea of showing our solidarity and support for our troops is starting Friday, and continuing on each and every Friday, until this is over, that every red-blooded American who supports our young men and women. WEAR SOMETHING RED. Word of mouth, press, TV--let's see if we can make the United States, on any given Friday, a sea of red much like a home football game at the University.
If everyone of our memberships share this with other acquaintances, fellow workers, friends, and neighbors, I guarantee that it will not be long before the USA will be covered in RED=and make our troops know there are many people thinking of their well-being. You will feel better all day Friday when you wear RED!'
Wear RED on Fridays...
SUPPORT OUR TROOPS, WE LIVE IN THE LAND OF THE FREE, BECAUSE OF THE BRAVE. FOR US, THEIR BLOOD RUNS RED!! GOD BLESS AMERICA
EDITORIAL
WHY WORK THAT HARD?
By Maureen Rudel

President Bush is going around the country to try to explain to people that the Social Security program is in trouble. Why bother?
Every one of the Democrats in Congress knows it's in trouble. They know there is nothing but IOU's in the "Trust Fund." They deny there is any promise that can't be kept if only you "tweak" the system – raise the retirement age, raise taxes, means-test the program, raise the cap on earnings, etc., etc.
I have always known that the Social Security system is nothing but a Ponzi scheme. I have never planned to rely on it for my retirement security. I am an "ant." My husband and I worked and saved and invested on our own. We didn't wait for the government to take care of us because we know politicians aren't reliable.
Democrats don't want to let people have private accounts because they will develop wealth and learn that the worst place to put your money is in some politician's hands.
The Social Security system is designed to reward grasshoppers. Don't save, don't invest and don't rely on yourself. Because the fund is not inheritable, no one ever moves up the ladder. This makes sure that there is a never-ending supply of people who have to rely on government to provide them with a meager life.
Whether the changes are made or not, the system is going to go broke. By 2018, more money goes out than comes in. In truth, it's broke then. It's broken now.
If the Republicans do nothing to try to save it, no one will. The many fewer workers who will be asked to pay the benefits for the baby-boomers will not do it. The entire system will explode and people will have to learn how to take care of themselves again.
The ants will take care of themselves and the grasshoppers will have nothing.
If that's what the Democrats want, let them have it.
EDITORIAL
Why We Are Different
By Maureen Rudel
On January 13, 2005, C-SPAN broadcast Supreme Court Justices Antonin Scalia and Stephan Breyer in a "conversation" about the wisdom of referring to foreign court decisions in Supreme Court decisions. Breyer took the affirmative view and Scalia did not approve of the practice. It was his opinion that the jurists should confine themselves to the American Constitution as the source of wisdom.
While Justice Breyer felt it was appropriate to see how other courts around the world dealt with questions that have arisen, Justice Scalia thought that it was fine to read them, just don't cite them. I vigorously agree with Scalia, not Breyer.
While the Founding Fathers reviewed writings from all over the world and throughout history in their deliberations on the writing of the American Constitution, they were writing it, not interpreting it.
When the founders established the United States of America as a representative republic, there was exactly one democracy in the world. They did not found a "democracy" in which the majority rules. They had learned that throughout history, those had failed because the majority would vote themselves benefits at the expense of the minority (soak the rich) leading, ultimately, to the collapse of the country. They established a representative republic, with the rule of law, protection of minorities, and checks and balances on the power of any one branch of government.
Even today, this type of system is rare.
Remember, most of the European countries started as vassal states, evolving into monarchies. Monarchs were said to receive their power from God. Power devolved down, according to the will of the monarch. "The King can do no wrong." Even Britains have a queen. They are not citizens, they are subjects. They have no written Constitution, and their parliamentary system allows the ruling party to run almost any law through. The same history applies to most other countries in the world. Because of this difference in view, most European law is not relevant to us.
In our system, power rests in the people. Those who are elected get their power from the consent of the governed. We have no hereditary titles or people who take office because they were born. This gives Americans a vastly different point of view.
Even at the end of the debate, Justice Breyer observed this difference, and noted (regretfully?) that Americans didn't seem to like having decisions come down from unelected people depending on foreign law.
GUEST COLUMN
Another Bad Example of the National Academy of Sciences
By William C. Humphries, Jr., Macon, Georgia
After reading last month's article on the National Academy of Sciences report on guns, Billy was moved to give us another example of its incompetence. He is the founder of Forest Resources Consultants, Inc. of Macon. He graduated from the Univ. of Georgia with a B.S. degree in Forest Management in 1965, and worked with private industry before starting his consulting firm. He is Past President of the Association of Consulting Foresters of America (ACF), 2004 recipient of the Forester of the Year from ACF, has served as Chairman of the Georgia State Board of Registered Foresters and is a registered forester in Georgia, Alabama, North Carolina, South Carolina and Mississippi. He has managed forests for some of the nations largest lumber companies. Here is what Billy has to say:
Here is another example that National Academy of Sciences study committees are apparently filled with those who merely use the organization to promote their own opinions -- regardless of merit.
This same group "studied", at cost of $500,000, the question "What should the role of the federal government in the management of private lands"? Everyone who owns land knows the answer to this -- quite simply, NOTHING! Get out of the way and let the market place work!
I attended hearings held by this "study committee" in the South, and participated (invited to represent ACF) in the final group discussion held in Washington which concluded the study. It was all a farce, so far as I'm concerned. About 20 so called experts (all state foresters, liberal college professors from mid west and west, and liberal policy wonks were appointed, but NOT A SINGLE "EXPERT" FROM THE SOUTH WHERE MUCH COMMERCIAL FOREST LAND IS LOCATED -- AND no landowners or those with experience in dealing with landowners. Pressure finally resulted in appointing of, arguably, one who does represents landowner views. Although the person appointed is known for his bias for federal subsidy programs which most of us abhor.
The result? A book that has served as the authoritative source for promoting subsidy and government "service" and other interference programs. The so-called hearings held around the country were a sham since most participants were invitees who favored more programs with welfare handouts. Serious timber growers' opinions were barely recognized although they own 80% of the commercial forest land in America.
Now as Paul Harvey would say -- here's the rest of the story: As you suggest in the gun control article -- it's all politics and pushing personal opinion, not science.
FACT: 80% of the people in America own 20% of the acreage. FACT: The remaining 20% of people who own 80% of the land are the serious timber producers providing wood supply for America, yet this study committee ignores the interest of this group of landowners, in favor of focusing on the 80%.
No brilliance required to see through this sham -- the 80% group is where the votes are that politicians focus on during every election and it's the group that's not dependent on forestland for a living, therefore can be more easily manipulated and more apt to go for the government service programs and handouts.
National Academy of Sciences may be a good idea on the surface, but I have no confidence in anything they do, based on my personal experience. Now I have your story as additional reinforcement. I now step down from my big soapbox.
EDITORIAL
How Sweet It Is
by Maureen Rudel

I am sure that many of you have heard of the battle which took place at 927 Fifth Avenue in Manhattan. For those who haven't here is the story. This super-ritzy co-op apartment building is home to apartments which easily fetch $10 million and such liberal luminaries as Paula Zahn, her husband, Richard Cohen, and Mary Tyler Moore.
Five years ago, a red-tailed hawk, dubbed Pale Male, took up residence on a 12th floor cornice, where he and his mates, current one called Lola, have produced 22 offspring. However, unlike the rest of the residents in the building, he has some bad habits. Carcasses of pigeons and rats were occasionally tossed from the perch, and falling over 100 feet, were a safety hazard. Droppings were not appreciated. And, city slickers who were fascinated by the birds scoped them -- and the other residents of the building with binoculars and telescopes.
Richard Cohen, as head of the board presided over the decision to remove the nest and eliminate the nuisance.
This is where the fun starts.
Remember that Liberals have two sets of rules, one for them and a different set for everyone else. When it comes to rural property, wetlands (otherwise known as swamps), private forests, farms, etc., they think nothing of treading on the property rights of others for "the greater good." The Fifth Amendment of the Constitution requiring payment for the taking of private property cannot be used to compensate private property owners for regulatory takings because it would cost too much. But for Liberals, they should be allowed to make decisions consistent with their ownership interest.
Enter the usual suspects. Here come the bird lovers and other eco-nuts with no stake in the game to demand that the hawk be returned to his perch. Some nut stalked Zahn, her husband and children. He got himself arrested and fired from Associated Press Television where he worked as an engineer. The co-op's lawyer received over 200 e-mails -- some including death threats.
Approximately one week later, the pressure was so great that the co-op voted to build a box where the nest was on the hope that Pale Male and Lola will return. As of this time, they have not found other lodgings which suit their taste.
The politically correct are hoisted on their own petards. Their private property rights are sacrificed.
How sweet it is.
GUEST COLUMN
Life in Europe
By Eldon Teall, Hale

Being a retired Air Force Veteran (22 years of active duty), who served in aerial combat during the time John Kerry was spewing his hate rhetoric to congress in 1971, I took this election rather personal. Thank GOD and the heavy duty performance of the RNC and its thousands of active leaders and volunteers, we avoided a disaster that would have put this country right back into the early days of FDR. I can only imagine how socialistic we would have become on Kerry's leadership. The harm caused would likely have been irreparable. I can just feature the reincarnation of the WPA and the CCC and a military draft simply for the sake of "busy-work". I can envision a National Health that works no better than it ever has in Canada and England. Believe me, the whole medical process goes to the toilet on that trip. I've seen it first hand. However, it is truly a present if you are already oppressed into a socialist's society.
Have you ever lived in any country in Eastern Europe?
I have, I have lived in Great Britton (England) from Jan 60 to Mar 62, and in Greece from Mar 62 to July 64. Both countries claim to be democratic. Over there political parties are usually labeled as conservatives and labour parties. Conservatives, like us, basically represent the ideology of commerce and business oriented people. Labour represents working people that are union oriented.
During our tenure in Europe we noted that the people of both England and Greece seemed to be both morally corrupt and financially overburdened. In England most everything sold had a purchase tax of (to my recall) about 35%. Gasoline over there right now runs about 95 cents a Litre. Keep in mind that it takes 4 litres to equal an imperial gallon. That is about 5 qts. U.S. measure. So they are paying about $3.04 for a US gallon of petrol.
When we lived there in the early 60s, I mentioned to my wife, look everyone is riding bicycles, but the streets are crowded with automobiles on Sundays. Found out that is typical. Save all week to buy enough petrol for a Sunday drive. The whole social structure appears oppressed. They had only recently came off WW2 rationing. We thought rationing here was bad, check into England's ration system in that time frame. We (as a military family with 3 children) were accepted onto the roles for National Medicine. Didn't take us long to figure what was meant by the Brain Drain.
Was confidentially informed by our family physician that he couldn't afford to leave England, otherwise he would also be over in USA making the big bucks. He stated that their medical staff was bare bones due to the Brain Drain. My, going into one of their hospitals was like stepping back into the 30s. Dirt, grime and no Air Conditioning just to start with. Yet they can spend millions of Pounds (at that time a Pound equaled about $1.80 I believe) just to keep the Royal Family living in luxury. We still have that lasting impression that where goes Mother England, so goes the USA within 40 years. Believe me, if the Democrats were kept in office over 8 years, we'd be where England was 40 years ago. GOD grant us the wisdom to prevent that from happening.
I think if you traveled into Germany, France, Italy, or Spain, and probably most of the Nordic and Slavic states you would find a similar situation as England. I believe the Euro Union is their only savior toward building a financial bloc that can ever come close the the USA's GNP and technological advancements. The only drawback is that same Financial Bloc could very well be our next potentially, nuclear armed, enemy.
If you pay attention to the news media, hate is being spread around the world in order to set the stage for war mongers of the radical, liberal persuasion. What better stage to use than the religious differences, after all, wasn't that the root of the 100 Years War? Wasn't that the prime reason for the fall of the Ottoman Empire?
Wow, don't let me get carried away on this subject. I am just totally elated that GWB is back in the saddle and leading us to a victory in Iraq and Afghanistan. He now has a mandate of the people by the numbers in both House and Senate to overthrow the Roe vs Wade entrenched court decision. In my mind, abortion is a necessary evil, but it becomes a credit to us as humans to prescribe it with very controlled and specific, medical and social reasons. Otherwise, I call it Murder in the 1st. Doctors who do not go through guidelines and appropriate channels to perform abortion should be charged swith the 1st along with both parents of the aborted fetus.
Just some random thoughts to let you know how I stand as a thinking conservative, who was once a voter for the Democratic Party. I guess it is safe to say that like most, I was born into a society as a basic democrat, but as I went to procreate, learn and teach, my values were enhanced with some basic truisms. As such I learned to be a conservative.
Regards to all in your working group. I note that Crystal Nelsey helped a bunch in this election. She is one fine young lady. This reflects well on her great parents. David is truly a class act.
Ed Teall
EDITORIAL
We Won, and Now They Really Hate Us
by Maureen Rudel

In my editorial on "Why They Hate Us" (June, 2004), I told you all the difference between Liberals and Conservatives. I was right, and proved right in the election results when conservative Republicans, Democrats and Independents returned President George W. Bush to office by the largest vote in history.
It has, however, been really interesting to see the reaction of the Liberals to the election results. First, the "red" people are stupid. They are homophobic, bible-thumping, blinded idiots that vote against their own financial interests. The "blue" people are of the belief that if conservatives do not want judicial activists to read into the constitutions of the states rights which certainly don't appear in the documents, they must be hateful and bigoted. If many of them happen to go to church regularly, they are mind-numbed robots who are told by their preachers they will go to hell if they don't vote the way the preacher wants. They think that saving a thousand or two on taxes, thanks to GWB, isn't enough to matter -- the liberals promise many more "entitlement benefits" (read socialized medecine) at someone else's expense -- you know, "Tax the rich." They think that we should be stupid enough to believe we can get everything for nothing and be happy about it. They think that we should be happy to vote for someone who promises a raise in the minimum wage -- without considering that it is better to have a job than a promise of a wage many small businesses cannot pay. They can't believe there are people out there who do not want to be part of the welfare state and want to take care of ourselves and our families and make our own decisions about our personal priorities.
Some have decided to secede. A map has been circulating showing the blue states annexed to Canada, entitled "The United States of Canada" and the red states entitled "Jesusland." Sounds good to me.
However, before they decide to break away, they should remember that the red states have all the farms, much of the manufacturing, most of the military bases, most of the guns and the very best soldiers, sailors and marines the world has ever seen. And, since we are red people trapped in a blue state -- because of the voting power of about three cities -- I will fight any effort to move us to the Socialist States of Canada. They will have to pry my gun from "my cold dead hands."
GUEST COLUMN
What's in a Name?
By Elden Teall, Hale

Why, all of the sudden, does Independence Day show up as "Happy 4th of July"? Has our whole nation gone politically correct, or are we all nuts?
I reminded the RNC (Republican National Committee) that to wish a Happy 4th of July is no different than Cinco de Mayo, or maybe Merry 25th of December. Right?
How about a simple, "Have a great Independence Day"!
For those of you who don't get the drift, I know it's early, but Merry 25th of December, and oh yes, Happy 3rd Thursday in November.
Regards--maybe I think too much. Ed
GUEST COLUMN
Your District Library
By Stephanie Mallak Olson

Iosco-Arenac District Library must find new local sources of revenue, to continue to provide services, materials, revenue sharing, and more to eight branch libraries, and, to meet the requirement of the State of Michigan for local funding.
*The District buys, catalogues, processes and distributes over 95% of the books, audios, magazines and newspapers people check out and use in the eight library branches the District provides services to. The District solicits and takes advantage of discounts to reduce costs to purchase the 6,300+ new titles it adds every year to the branch library collections.

*The District pays for and maintains 46 computers including Direct Internet connections. Twenty of the computers are for public use.

*District staff delivers new materials to all branch libraries twice a week. The District also participates in the Statewide delivery system and annually borrows and loans over 2,500 books and audios to and from libraries outside of the District through an interlibrary loan system.

*A full-time Children's and Teen Services Coordinator is employed by the District and shared by the eight branch libraries. Over 1,200 children and teens attended library events in 2003.

*The District applies for Federal, State and local grants and solicits funding from clubs, organizations, business and Library Friends groups for children's programs, computer hardware and software, Internet costs, Reading is Fundamental book giveaways, and more.

*Over 10,000 library cards have been issued in the last three years and many more people use library computers and materials who are visiting our communities. Over 120,700 people visited branch libraries in 2003, and 187,594 books, audios, magazines and videos were checked out.
The District does not receive County appropriations or millage. The District is dependent on Penal Fines collected by the courts (mainly from traffic tickets issued almost entirely by State and County police). Penal Fines account for 80% of the revenue received by the District. State Aid is only about 5% of the District revenues. In fiscal year 2000, Penal Fines and State Aid totaled $558,290. In fiscal year 2003, Penal Fines and State Aid totaled $377,572. Since year 2000, the District has survived by using fund balance and by eliminating and/or reducing services, staff and materials.
A voter approved millage of .5 mills (50¢ per $1,000 of the taxable value) for 10 years will enable the District to continue providing for eight branch libraries.
For more information (the ballot language, Millage FAQs, the 2003 Annual Report, and more) please visit the District's website www.ioscoarenaclibrary.org or contact:
Stephanie Mallak Olson, District Director
120 W. Westover St.
East Tawas, MI 48730
Phone (989)362-2651 Fax (989)362-6056 E-mail s.olson@vlc.lib.mi.us
EDITORIAL
Why They Hate Us
By Maureen Rudel

The question continues to reverberate: "Why Do They Hate Us?" I've thought a lot about this. I think I know.
They hate us because we are optimistic and believe that we can do anything with enough time and effort. They hate us because when we see a problem, we try to come up with a solution. They hate us because we think that ordinary people have enough common sense to live our lives the way we wish. They hate us because we want everyone to make and keep sufficient money to solve our own problems. They hate us because we will not bow to their dictates.
They hate us because we love our country and they believe that America is what's wrong with the world. They hate us because most of us are people of faith, and believe that our right to practice our religions (or not) are guaranteed under our Constitution. They hate us because we love our flag and they believe it is best when burned.
They hate us because we believe that all people are created equal and no one is entitled to special privileges or status because of wealth, stature, popularity, or educational level. They hate us because we believe that everyone should receive a good education in "readin', writin' & 'rithmetic" so we have an opportunity to make the most of our lives. They hate us because we don't believe that the state should be able to control the education of everyone. They hate us because we believe that women are equal to men and should be able to choose the type of life they will live.
They hate us because we love life and feel diminished by the loss of anyone. They hate us because we are willing to fight and die for those beliefs and they think those who do are fascists and imperialists. They hate us because we believe that all ideas have the right to be heard, not censored because they might offend someone.
They hate us because they cannot control us. We like it that way.
We, the Conservatives, will win. And the Liberals will hate us all the more.
EDITORIAL
A Real War Hero
By Maureen Rudel
There has been a lot of discussion recently about Viet Nam and who is or is not a hero. I had the honor, recently to meet a real hero from that war. While Peter Lemon no longer lives in this community, it is still in his heart. He was awarded the Congressional Medal of Honor. The following are excerpts from the official website of the Congressional Medal of Honor.
The Medal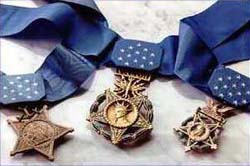 The Medal of Honor is the highest award for valor in action against an enemy force which can be bestowed upon an individual serving in the Armed Services of the United States. Generally presented to its recipient by the President of the United States of America in the name of Congress, it is often called the Congressional Medal of Honor.
---
PETER C. LEMON
"Rank and organization: Sergeant, U.S. Army, Company E, 2d Battalion, 8th Cavalry, 1st Cavalry Division. place and date: Tay Ninh province, Republic of Vietnam, 1 April 1970. Entered service at: Tawas City, Mich. Born: 5 June 1950, Toronto, Canada. Citation: For conspicuous gallantry and intrepidity in action at the risk of his life above and beyond the call of duty. Sgt. Lemon (then Sp4c.), Company E, distinguished himself while serving as an assistant machine gunner during the defense of Fire Support Base Illingworth. When the base came under heavy enemy attack, Sgt. Lemon engaged a numerically superior enemy with machine gun and rifle fire from his defensive position until both weapons malfunctioned. He then used hand grenades to fend off the intensified enemy attack launched in his direction. After eliminating all but 1 of the enemy soldiers in the immediate vicinity, he pursued and disposed of the remaining soldier in hand-to-hand combat. Despite fragment wounds from an exploding grenade, Sgt. Lemon regained his position, carried a more seriously wounded comrade to an aid station, and, as he returned, was wounded a second time by enemy fire. Disregarding his personal injuries, he moved to his position through a hail of small arms and grenade fire. Sgt. Lemon immediately realized that the defensive sector was in danger of being overrun by the enemy and unhesitatingly assaulted the enemy soldiers by throwing hand grenades and engaging in hand-to-hand combat. He was wounded yet a third time, but his determined efforts successfully drove the enemy from the position. Securing an operable machine gun, Sgt. Lemon stood atop an embankment fully exposed to enemy fire, and placed effective fire upon the enemy until he collapsed from his multiple wounds and exhaustion. After regaining consciousness at the aid station, he refused medical evacuation until his more seriously wounded comrades had been evacuated. Sgt. Lemon's gallantry and extraordinary heroism, are in keeping with the highest traditions of the military service and reflect great credit on him, his unit, and the U.S. Army."
We have men on duty right now who are performing with like bravery. I find it hard to understand how you can honor the troops, vote against funding their activities and needs, and suggest that somehow, the United Nations (which left Iraq because of the dangers there) would be a better choice to defend America.
EDITORIAL
When I Met John Kerry
By Maureen Rudel

At the end of the 1980's and beginning of the 1990's, I was a member of the Baldwin Township Flood Insurance Committee which had been established to react to the proposed changes in the Flood Insurance Maps by the Federal Emergency Management Agency (FEMA). The Committee included Ron Ward, Lawrence "Butch" LaVoie, my husband, Lewis Rudel and me.
After a presentation at a Baldwin Township meeting, we determined that we had to fight the proposal to put the eastern shore of Lake Huron in "Velocity Zones." These zones not only would drastically increase the cost of flood insurance, but would require houses to be built on stilts as is now common in the south for those areas which are subject to frequent hurricanes.
We developed a plan. Ron Ward contacted city and township representatives from Alpena to Kawkawlin to determine whether they were interested in joining our fight. Most were. Butch, who knew most of the politicians got our State and Federal representatives behind our efforts. Lew and I reviewed the various documents the US Army Corps of Engineers and FEMA had prepared.
This was a non-partisan effort. The various communities up and down the shoreline were governed by both Democrats and Republicans. Democrat Tom Alley was instrumental in helping up set meetings. Representatives of the offices of Senators Carl Levin and Don Riegel, both Democrats, attended the meetings. Finally, we got the attention of FEMA when the George H. W. Bush appointee who headed FEMA asked if I would be willing to testify on then-pending legislation. His administration agreed with our position that the Flood Insurance Program should be actuarially rated to recognize risk.
The main reason that FEMA was trying to make the changes to the maps was to obtain a massive infusion of funds to the FEMA program. Most of the money was spent in the southeastern coastal states, and, in many cases, on the same properties over and over again.
Since Michigan has more miles of coastline than any other state in the continental US, we were a prime target. This is true despite the fact that it is almost impossible for anyone to collect from flood damage caused by the Great Lakes because of the definitions of lake level variations in the policy. What a great plan -- get a lot of money from people who will not be able to collect for any claims.
Senator Riegel extended me an invitation to a round table hearing discussing the pending legislation. While I knew he would be unable to attend, he did send a staff person with me to explain the rules. I had letters of support from almost every community along the shoreline which were placed in the record of the hearing.
On the day of the hearing, 3 senators were present: Connie Mack and Bob Graham of Florida and John Kerry of Massachusetts. The hearing lasted a couple of hours. There were presentations from a number of people and then comments by participants such as me.
Both Senators Mack and Graham were very polite and listened to what I was saying, asking questions. Even though Michigan was not in a hurricane zone and had very few claims over the years which involved flooding from the Great Lakes, we were being asked to pay the exact same price as homes in Louisiana which flooded every year. Senator Kerry spent most of his time talking to other people while I spoke. The one time I remember him talking to me, it was to interrupt me to ask one of his environmental witnesses to comment.
After the hearing, he went running down the hallway telling me that the legislation did not say what it clearly did say. I was not impressed. It was obvious to me that the problems of the Great Lake states were of no concern to him.
As to his war record, the Viet Nam Vets suggest you check out the following site: http://www.vietnamveteransagainstjohnkerry.com/
P.S. In case you want to know the end of the story, the communities involved were able to stop the draconian plan which had been proposed and adopted new maps which were almost, if not exactly, the same as the previous ones.
EDITORIAL
Why I Love Billboards
by Maureen H. Rudel

I realize that many people will disagree with me, but I love billboards. I love signs of all types. If I had my way, any person or business could put any sign on their own property that they wished.
As I drive down the highways, I love to look at the signs. Since I hate driving and get terribly bored by driving, the signs along the way keep me awake. For those of you who might be on the road at the same time I am, you might be grateful to the signs, also.
These signs tell the story of America. They tell you of the wonderful places that you can stay, where you can eat, where to get gas, what you can buy, where you can get it, what you can see and how to get there. They are loud, colorful and informative. They showcase the marketplace that is this wonderful country.
There is a move on in the legislature to ban or limit billboards, again. There are those who wish to legislate a limit on free speech. They wish to preclude a property owner from marketing a piece of their land for a legitimate business purpose because they don't like the signs. My advise to these folks is to move to Vermont. In the wonderful state of Vermont, it is so politically correct that you can't even find a grocery store. Everything is hidden from view by tasteful hedges. Only politically correct signs are allowed to be seen from the road. The trouble is, unless you know that "Carter's" is a grocery store, you will never find it.
If the sign haters wish to limit the number of signs, they can put THEIR money where THEIR mouth is. To the farmer who owns the field, the sign is a form of income. Go offer the farmer the same amount or more not to put the sign there. The billboard companies rent their boards. Pay them the same amount or more not to rent the space. Pay them for the cost of the structure. Make these agreements for a long enough time to make it worth the while of the farmer and the billboard company to be attracted to the deal. That is the American way.
But no, the freedom-hating people don't want to actually use the system to accomplish their desires. What they want to do is to limit the freedom of others by passing a law to enforce their preferences on others. They wish to limit the opportunity of others to make a legitimate income from a legal act. They have no intention of paying for it with their money. They will employ the power of the State to enforce their will.
What will happen when they wish to restrict one of the freedoms that you hold dear? Will you go meekly to the slaughter? It is time for all Americans to stop the intrusive big foot of government from increasingly stepping down harder on us.
Cheer for the billboards.
EDITORIAL
It's Time to Take A Look at Our Balance
by Maureen Rudel
I am not a religious person. Some of my best friends are. Some feel very deeply about their faith, and I admire their willingness to express it openly. Some people of faith feel the need to try to "save" others and change their minds. If my friends feel that way, they've given up on me.
However, while I believe that the government has no business trying to establish a state religion and tax the citizens to support it -- as in England, I think the "separation of church and state" has been misconstrued in court rulings and has resulted in a hostility to religion which cannot be constitutionally justified.
Remember, the founding fathers lived in a country which was peopled by people who had left England because of religious persecution. In England, even today, the head of state is the head of the Anglican Church, the official state church of England. It is supported by taxes. This was the evil that the founding fathers were trying to avoid. Even at the time of the signing of the Constitution, several of the states had official religions. These were not abolished or outlawed by the adoption of the Constitution and Bill of Rights.
The First Amendment reads: "Congress shall make no law respecting an establishment of religion, or prohibiting the free exercise thereof; or abridging the freedom of speech, or of the press, or the right of the people peaceably to assemble, and to petition the Government for a redress of grievances."
It does not say, "You can't say 'God'" if it offends anyone. As a matter of fact, the "freedom of speech" clause specifically anticipates that the speaker may be mouthing unpopular, outrageous, even blasphemous words. The ACLU will fight to the death to make sure that unpopular speech is allowed. It is the popular speech they try to suppress. Whether or not anyone likes to admit it, this country was established by people who overwhelmingly believed in God. They would never have prohibited praying in public places. They established the practice of opening Congressional sessions with a prayer. The Supreme Court of the United States opens with a prayer. These are public places.
If you do not wish to participate in prayers, no one can make you. That is guaranteed by the First Amendment. If you do wish to participate in prayers, you should be allowed to do so.
I am pleased that the United States Supreme Court will be reviewing the decision to remove the phrase "under God" from the recitation of the Pledge of Allegiance. It's time to stop running this country by a tyranny of the minority under which only the rights of believers can be suppressed.
GUEST COLUMN
Reply to Lois Lanski
by Robert A. Shmina, Au Gres
In your September Newsletter you featured a Guest Column by Lois Lanski. I quote from that column "... I, for one, do not ever want, in my lifetime to have some government official telling what I can and cannot do on what I think, is my land." How macho! How idiotic! How selfish!
This attitude is not the attitude of a responsible land owner who realizes the land owner also has some responsibilities to others to preserve natural resources, but rather the attitude of a selfish irresponsible child. This is the attitude that caused some of the "range wars" of the 1800's when a land owner decided he owned the water flowing through his property and he had the right to stop it and choke off those downstream from him. This is the attitude of some today that they own the land that has the wetland and that gives them the right to destroy it. If you do not know the value of the wetland then you are too far gone to see any rational thinking regarding the protection of the environment. This irresponsible and reckless behavior in the destruction of our natural resources by some land owners in the past is what necessitates this type of government action now.
So, Ms. Lanski, maybe Ducks Unlimited has a more responsible attitude than you do. I think you should urge others to support the group.
EDITORIAL
Politics is a Hoot
Maureen Rudel
Now there are ten. As Al Sharpton said: "Eight politicians, an officer and a gentleman." They have a lot in common. They all hate George W. Bush. They all want to tax the "Rich." Any amount of money for the military and defense is too much, but there is no limit to what they will spend to establish another socialistic entitlement program. They believe that our nation's security should be left in the hands of the United Nations and France (so we can learn how to properly surrender).
They make a great deal of noise about the economy. Their answer to the capitalist market system is to take more money from the successful hard working people and give it to government programs and employees because that will help make everyone equal. The idea of rewarding success and hard work is so foreign to their mindset because most of them have been involved in politics their whole lives and have no idea of what it takes to succeed in the real world.
However, as in Agatha Cristi's famous murder mystery, Ten Little Indians, they are about to start knocking each other off. Fortunately, unlike the novel, they are not going to do it on a deserted island out of touch with the rest of the world, they are going to do it on national TV and in the rest of the mass media.
It is interesting that the liberal, elite media has gone through several lovefests already. First, it was John Edwards. Then it was John Kerry. Then Howard Dean. Now, Wesley Clark. As the extreme left-wing of the Democrats in the Iowa caucuses and the New Hampshire primary choose their favorite socialist, the media will swoon.
When all of the dust clears, and when it gets down to the "Last little Indian" on the fireplace mantle, the public can compare the survivor to an honest man, who does what he believes is best for America -- not what will make France, Germany and Kofi Annan happy. He will place his priority on the Constitutional duty to protect us from enemies, foreign and domestic, rather than spending his time trying to expand programs which have no Constitutional basis at all. I think the American people will have enough sense to re-elect George W. Bush, who understands that there is no substitute for victory.
GUEST COLUMN
Private Property Rights and Ducks Unlimited
By Lois Lanski

Recently a friend of mine called asking if I had read an article written by a chief executive with an international wildlife organization. The contents of this editorial sparked this rebuttal.
Private Property Rights
"This is my land I own it". Oh really! Do you pay Taxes? Do you have to purchase a permit to put a driveway in, build a house on it, and move in it, only after an inspection?
Now in brief Ducks Unlimited
One of the largest citizen organizations involving sportsmen and women is supporting government control of most waters and wetlands, seasonal potholes to major lakes and waterways. This is regarding the breeding grounds for waterfowl.
The spokesperson for this absurd idea is their executive Vice President, Mr. Don Young. You don't suppose that his early upbringing and time spent owning and operating a consulting firm dealing with wetlands in Canada might be part of the reason he is with the initial group that is suggesting such a preposterous idea here in the U.S. As we are well aware the Canadian Government controls the lands in their country as well as strict rules governing the right to own firearms. This too might be a reason that Mr. Young is an anti-hunting proponent, to the point that he and many others in the leadership role for this organization feel that no one should own a handgun and that guns used for hunting be sold to a select few that belong to the large hunt clubs in this country.
Two proposed laws in Congress at this time S 473 & H.R. 962, overturn the Supreme Court decision and say that once and for all that ALL wetlands and waters of the U.S. deserve federal protection. There it is. If this passes, all the wetlands and water on YOUR LAND, comes under federal jurisdiction. They are saying you (all waterfowl enthusiasts) should step up to support protection of valuable wetlands for the waterfowl resource we treasure. Remember now this is private land -- you own it, right? If these measures should pass you will not be able to turn a shovel of soil wherever the wetlands are, put in a drive, build a road or grade it without the Federal Government's approval.
Take a good hard look at who is proposing that we support these bills, why, none other than the executive Vice President for DUCKS UNLIMITED, Mr. Don Young.
Think about this -- government "Say So" and control on your PRIVATE LANDS? I don't know about you, but I, for one, do not ever want, in my lifetime, to have some government official telling me what I can and can not do on what, I would like to think, is my land.
I will not consider supporting an organization with this type of socialist leadership.
To read the contents of this article in depth refer to the Ducks Unlimited magazine –July-August 2003 edition, pg. 8.
A FORMER MEMBER OF DUCKS UNLIMITED
Lois Lanski, Glennie, MI
EDITORIAL
Science Works Every Time
By Maureen H. Rudel

I don't care where you went to school, or how far you went, you were "exposed" to some science. The problem is that it seems very little of it became imbedded in the brains of most of the American public. This is particularly true of the members of the mainstream media.
I don't think there is a "Vast Left-Wing Conspiracy" which meets in some corner somewhere and decides: "How can we fool them today?" I believe that people who go into journalism are most often enamored with the power of words. They enter the field on a mission. They want to make the world a better place. They are oozing with compassion and emotion. They are willing to do almost anything to accomplish their ends. Take a look at the various columnists, reporters and authors who have been exposed over the last several years for fabrication, plagiarism, distortion and totally erroneous works. Not one is a conservative. However, these do-gooders often do a great deal of harm by falling for something that sounds good and is nonsense. If they were to apply the smallest amount of scientific logic to their cause, the truth would out.
The scientific method (you remember this) depends upon logic. First, you develop a hypothesis to explain a phenomenon. Then, you develop an experiment to test the hypothesis. Next, perform the experiment. Analyze the result. This will tell you whether your original hypothesis was correct. If it was, you should be able to perform the same experiment time and again and get the same results. Think about the old magnet and compass. The magnet attracts the compass needle every single time.
Now, let's talk about some recent "issues" where a little logic would work.
I have a friend who had a daughter in college who was taking environmental science. That is the least scientific field I can think of. She started railing at her mother about recycling the trash. Her mother was at her wit's end with frustration. I suggested an experiment. Her daughter was assigned to follow the trash at her own college. All of the glass, cans, paper and garbage was separated in various bins. They were picked up separately. They all went to the land fill. They were all dumped in the same bin. However, the trash company was making a whole lot more money by charging for the handling of the separate bins. Think about it. If recycling really worked, people would pay YOU for your trash. However, no one ever tests a program like this which is so politically correct.
My favorite is global warming. First, one has to establish that the globe is in fact warming. This means that one has to have an accurate method of measuring the temperature of the globe over a very long time. Remember, thermometers are relatively new. What do you measure and how do you do it? If you can establish that the globe is warming, one might want to know why. One might also want to know how much it is warming, how long will it last, how hot will it get, and what will be the result. The global warming disaster-mongers cannot answer any of these questions. What they have done is to develop computer models which they say answers these questions. The problem with computer models is that if you put garbage in, you will get garbage out. Not a single model which they say will predict the future can accurately replicate the past. Remember, if it's real science, it will produce the same result each and every time.
If it's an anti-capitalist agenda, it will cost a whole lot of money, will produce a disaster for the United States and still won't solve the problem.
Q.E.D.
EDITORIAL
The "Progressive" Agenda
by Maureen Rudel

First, let's establish what "progressive" is. It's the current word liberals use since "liberalism" has been shown to be failed strategy.
Next, who are progressives? Liberal Democrats, Socialists, Communists, eco-terrorists, peaceniks, anarchists and anti-capitalists of all varieties make up the cadre.
What they have in common is their total commitment to their elitist values, which are most easily seen among the university professors in the liberal arts courses -- except those in the hard sciences. They know what is best for you. You are too stupid to be in charge of your own life. They, the "anointed," will tell you what to wear, say, eat, drink, smoke (tobacco bad, marijuana good), do with your time and your money.
They believe in the Utopian view which is best expressed in Communism and Socialism. They believe that, while it has failed every time it's been tried, it is because the "Right" people haven't been in charge yet.
The premise is that everyone will be happy when they have an equal share of everything. All outcomes must be equal. The problem with equal opportunities for everyone is that it doesn't produce the same outcome. Some evil people will work harder and make more money. Some people will save better than others, some will invest better, and some will just be lucky -- although I always found that the harder I worked, the luckier I became. Since this system is best expressed in capitalism, capitalism is bad.
In order to overcome the effects of capitalism, we must redistribute the wealth. Take money away from those who have more and give it to those who have less. This is accomplished by a steeply "progressive" tax code, the death tax -- which strips the fruits of years of hard work from those who were foolish enough to save, and reward behavior which produces failure. Punish marriage because if people marry and have children only after doing so, they are more likely to be more successful. Therefore, tax married people more than single people. Try to get as many people on "entitlement programs" as possible -- this accomplishes two goals. Many forget that once upon a time they bought their own insurance, paid their own medical bills and planned for their own retirement. They are convinced that without "the Government" they will starve, be denied health care and live in dumpsters. They then decide that all of their "wants" should be "rights" and demand more. This enlarges the government, creates the need for more taxes, and pushes the private market out of the field.
The object is to get more than half of the people living off "the rich." This way, most people will never be in favor of tax cuts because most people don't pay taxes. We're almost there. Listen to the demagoguing going on over President Bush's proposed tax cuts.
The progressives do not believe in a republican form of government where the power flows from the people to the government. They believe that The Government possesses all power and will give you what they decide you need. That's why they always say: "We can't afford a tax cut." In their mind, all money and property belongs to them, and they will let you keep only what they don't need. The problem is that THEY NEED IT ALL because there is no end of PROGRAMS the people need.
You have to divide the people into factions. Set the factions against each other to try to get the most spoils from the bountiful government. The spoils are awarded on the basis of status, not merit or achievement. This is the essence of "grievance" politics which you hear from certain groups of people who so busy being aggrieved they never do anything to improve their lot.
When the elitists ultimately take over, they always kill all the people who don't agree with them. They also reward themselves at a very high level for their wisdom and correct thinking -- all pigs are equal, but "some pigs are more equal than others." They cannot abide a different point of view. It's not just wrong, it's EVIL. And if you don't think we're headed in the wrong direction, explain political correctness and affirmative action.
This country is at a crossroad. In this 50-50 nation, it's time to take a stand. Don't be cowered into silence.
You can be darned sure that you are not going to end up a "more equal pig."
EDITORIAL

Puppies and Babies are Conservatives
by Maureen Rudel
Both puppies and babies are conservatives. They come to you knowing nothing. They want to eat, drink, and take care of bodily functions. They want to be warm and cozy and cuddled. They want to be happy and don't want their world to change in unpleasant ways. They are afraid of falling and loud noises. As time goes on, they make progress. First, they learn English. Then, they learn how to interpret those words to understand what they mean.
What you need to learn is that these little creatures only want to make you happy. They want to do what you want. If you set reasonable rules and enforce them consistently, they will do exactly what you want. (I know, all you mothers are saying: "What about the terrible twos?" At this point, your child is starting to actually think. They are practicing on you to see if you will do what they want, rather than the other way around. If you continue to insist on the rules, consistently, like a broken record, you will win. (Admittedly, girls are easier, both in kids and dogs. They seem to react well to shaming. Little boys sometimes need a swat on the back end to get their attention. . . .)
Time passes. However, they still are conservative. They are not happy with change. They want everything to stay the same. They never want to move to a different house. They are never happy with a change in the family, another puppy, another baby. They want all of their people around them all the time.
Eventually, things change. If you have done your job well, your dog will be a faithful loving companion all of its life. However, things never go that easily with kids. They get into their teens. Any setback is earth shaking. All problems are monumental. If they are "different" from their friends, the world will end. They express their individuality by trying to be exactly like each other, same clothes, shoes, music, etc. They try to test the limits of your patience and endurance by fighting your every statement. Boys do strange things with their hair, girls do strange things with their clothes, and they all like strange music. However, inside, they still want rules and limits. If you are reasonable and persistent, you will raise a good kid.
Raising kids is the hardest job in the world. I know that. I never had any. I have had dogs; they never become teenagers. If you're not up to the hard part, stick to dogs.
As to cats, I don't know. Maybe they are liberals. . . .
EDITORIAL

The People Who Make the Republic Run
By Maureen Rudel, East Tawas
I was thinking the other day about those people who run for office. It is a project which has never appealed to me. I have taken appointed positions, but have never run for anything but precinct delegate.
Those people who run for township boards, city and county offices and the higher offices which are elected, make our republic run. We have a representative form of government, not a democracy. In a democracy, there is chaos. The majority always wins and the ultimate result is dictatorship or anarchy.
In our republic, individual rights, not group rights, are supreme. Private property rights are protected by the Constitution. While there have been many inroads which have weakened our country, I remain ever hopeful that we will recover from our experiment with socialism and return to the vision of our founders.
This will be a possibility only as long as good people are willing to run for office. They must spend lots of time, shoe leather, and money -- their own and that of their supporters -- to make our country work.
Once they get elected, they go to meetings, visit with constituents, deal with problems, appear on command at various dinners, events and public activities. When people are happy, no one shows up at the council, township or county board meetings. They only come to complain. They have a problem. They want it fixed. The office holders can't go out to dinner without the real possibility that someone will interrupt the dinner with a complaint. Very seldom do people tell the office holders they are doing a good job.
Why do they do it? I suspect that in many cases, the people who run have felt that they could do the job as well or better than the incumbent. They have an idea, a dream, a philosophy, they believe will be better for the republic than the existing agenda. They may be right, they may be wrong, but they are willing to put themselves on the line to test their ideas in the marketplace of liberty -- elections. In most cases, the pay they receive for their services does not begin to compensate them for the time they spend. In most cases, they want to serve the public. In most cases, they are not crooks. There are always a few exceptions, but in this country, fortunately, those are few.
As long as there are people who are willing to do these jobs, we have a chance to continue to keep our republic. The next time you see one of our elected officials, thank them for their service.
After all, what if we had an election and nobody ran?
GUEST COLUMN
The Truth About Corporations
By Lewis C. Rudel, East Tawas

It must be the political season because the demagoguery about the evils of corporations is in high gear. The rhetoric accuses corporations of the vilest of deeds, including "corporate greed", as if the corporation was a real person. Attorneys General are filing criminal indictments against corporations, as if the corporation can be locked up in a jail cell. We hear calls for corporations to pay "their fair share" of taxes, as if corporations paid taxes.
It occurs to me that many people don't understand what a corporation is and what its purpose is in our society.
Quite simply, a corporation is a creation of the law- a legal fiction. A corporation is a way for different groups of people to organize their activities to achieve a mutually beneficial result. The corporation consists of one group of people (the employees) who wish to produce a product or service for another group of people (the consumers) by using the money provided by a third group of people (the shareholders). The corporation's main advantage as a form of organization is its continuity (it can survive after the death or departure of its founders) and the limited liability it provides for investors (rarely can an investor lose more than the amount he or she invested in the corporation).
A corporation receives money for its products or services from the consumers. This money is shared (after paying expenses associated with producing and selling the product or service) with the employees (salaries and wages) and the shareholders (dividends) and some may be set aside for future needs of the corporation.
Once one understands this fundamental relationship, it is quite easy to see what happens when a government comes to a corporation and demands that it pay a tax. That money must come from one or more of the groups involved in the corporation. There is no other place to get it. Either the consumer pays the tax through an increased price for the goods or services the corporation produces, or the employees pay the tax through lower wages and salaries, or the shareholders pay the tax through lower returns on their investment. So when the corporation pays a tax to a government, it is really just collecting that tax from one of these groups of people, giving it to the government so that the government can give it to some other group of people.
Viewed in this way, it is also easy to see that "corporate welfare" provided by governments to corporations is just the government's way of taking money that was provided by all taxpayers and channeling it to one or all of the groups of people involved in the corporation.
Likewise, when a corporation pays a fine to a government, it is just another form of taxation. It comes from the employees, consumers, or shareholders of the corporation and goes to some other group selected by the government. (Guess where the money involved in the "tobacco settlement" is going to come from.)
There is also no such thing as "corporate greed". There may be greed by some of the people involved in the corporation. Management employees may try and steer more of the corporate income their way, or union employees may try to channel the money their way, or shareholders may try to increase their share of the corporate pie. But one thing you can be sure of. The "corporation" isn't the one that is greedy. When governments try to get more of the corporate pie through taxes, it is seldom referred to as "government greed", although perhaps it should be.
It's easy and very popular in some circles to make the corporation a whipping boy, but once one realizes what the corporation really is, it becomes readily apparent that the real whipping boys are the consumers, employees and shareholders of the corporation.

EDITORIAL
THAT FIRST VOTE
By Maureen H. Rudel
For those of you who really aren't sure if it makes a difference if you vote for a Republican or a Democrat, keep this in mind. It doesn't matter how much you like a candidate if you don't agree with the first vote cast in the legislative body.
The first vote taken in a state or federal legislative body is on organization of the chamber. Each member votes for a person who will be the majority leader, speaker or president of the body. The person with the most votes wins. From here on in, the committees are set, the ratios of members of the committees are established, and the chairmen of the committees are set. The majority rules the chamber involved. The heads of the legislative bodies control the agendas of the bodies, the chairmen set the agendas of the committees.
A startling example of the difference these votes make was provided after the November 2000 elections. The US Senate was split evenly, 50 Republicans and 50 Democrats. From January 1 (when the US Congress was sworn into office) until January 20 (the inauguration date of President Bush), the Democrats were in charge because the Vice President (Gore) would vote in the event of a tie. When Vice President Cheney was sworn into office, he voted to break the tie in favor of Republicans, who then had the majority in the Senate. It was during the reign of the Republicans that the tax cuts promoted by President Bush were enacted.
When Sen. James Jeffords, who ran as a Republican in November 2000, accepted funds from the Republican party, and was elected as a Republican, decided to change his affiliation to "Independent," things changed. He decided to vote to organize with the Democrats. This left Sen. Tom Daschle as the Majority Leader of the Senate. Any bill he doesn't like he will not allow to come to the floor for a vote. He has pulled bills from committee chairmen because he was afraid they would pass in the committee and he would then have to bring them to the floor. Sen. Carl Levin became the Chairman of Armed Services Committee. This is a man who has never seen a tax increase or a defense cut that he doesn't love. He is adamantly opposed to an anti-missile defense and has done everything he can to make sure that the US cannot defend against an incoming missile. Sen. Patrick Leahy became the Chairman of the Judiciary Committee. He has been responsible for making certain that the federal judges chosen by President Bush are not approved by the Senate. His objection to these judges is not their qualification for the job, it is that they are not activist, liberal judges who will make the law, not interpret it. And so it goes throughout the Senate.
In the US House, which is also quite close in numbers, the change of approximately 6 seats will mean change in control of the House. Dick Gephardt, anti-gun, pro-abortion, tax and spender would be Speaker of the House. Nancy Pelosi, who is now leading the charge against allowing President Bush to defend us against Saddam Houssein, would be Majority Leader. Charlie Rangel, who entertains his good friend Fidel Castro whenever he can, would become Chairman of the Ways and Means Committee. This committee is in charge of all federal tax policy. Under him, the only way for taxes to go would be up. John Conyers would be Chairman of the Judiciary Committee. He is the gentleman who has, for years introduced a bill on Slave Reparations. Henry Waxman, would become Chairman of the House Committee on Government Reform. The parade of horribles goes on. All of the Democrats who are in a position to assume leadership roles are from the far left of the Democrat party. Their litmus test issues are pro-tax, pro-redistribution, pro-abortion and anti-gun.
The same rules apply to the state legislative bodies. Michigan has prospered under Republican leadership. Taxes have been cut over 20 times. When the budget got tight, the Republicans have made the State cut spending, not the citizens. They aren't perfect, the cigarette tax for example, but they are way ahead of the party in second place.
You see, the first vote is key. It establishes control.
For the sake of the country, I hope that the first vote of the candidates you choose is for a Republican.

EDITORIAL
THE IMPORTANCE OF BEING HONEST
by Maureen H. Rudel, East Tawas
Now we hear great outrage levied against corporate executives who have lied, cheated and stolen from their companies, shareholders and employees. "Throw the book at them!" I agree. But why did this happen at this point in time?
Could it be that during the eight years prior to the presidency of George W. Bush that the nation was led by people who assured us that "character doesn't count?" When Sen. Robert Kerrey of Nebraska commented on what an "unusually good liar" Bill Clinton was, the elite media and Democratic membership laughed about it. When Clinton lied under oath, not a single senator from his party would stand up and be counted to do more than chastise him. When Clinton broke campaign laws with impunity, sold the White House, Air Force One, pardons and state secrets for campaign and presidential library contributions, the elites from the left coasts commented and clucked. Nothing else happened.
A tone was set. The country listened. Grade school children engaged in oral sex. Do what feels good. There are no absolutes. It's the economy, stupid. Who cares, as long as we're making money. It's only lying about sex. There was no penalty for unacceptable actions. Those jerks in the hinterland are making a lot of noise about nothing.
A price is being paid for this mentality, and it isn't over.
As Arthur Anderson dissolves in its well-deserved demise, new accounting firms will be looking at the books. They have nothing to gain and everything to lose if they cover up any wrongdoing. All of the warts will show.
The politicians who went along with lowering the standards of our country stand up and bloviate about the crimes of the corporate executives. They'll pass laws that will probably hurt the economy. They won't save a nickel for any employee or shareholder. But most importantly, they won't look in the mirror.

Michigan Sentencing Guidelines
by James Bacarella
The Michigan Sentencing Guidelines, have endangered every person who enters the borders of this State.
When the criminal sentencing guidelines were enacted, the State sold them as new, and tougher than those created by the State Supreme Court in 1988. Unfortunately, they release criminals prematurely. Their real purpose is to shift the burden of the financial cost of our State's prisoners to the counties, in violation of the Headlee Amendment in Article IX Section 25 of the State Constitution, and reduce the cost of the prison system by releasing State prisoners prematurely into our community.
The first, and most obvious problem is that if the maximum minimum sentence is less than 17 months, then an "intermediate sentence" is must be imposed. An intermediate sentence is confinement in county jail. A person may be confined in the county jail for a maximum period of twelve months. The result is a person who previously went to prison ends up in county jail, for a shorter period of time, increasing the financial burden on the county without remuneration from the State, as required by the Headlee Amendment.
A second concern is that the guideline score for forgery, ( a form of identity theft) treats a 14 year felony as if it were a felony with a five year maximum sentence. If a crime is serious enough to mandate a 14 year maximum term of incarceration, it is hard to justify treating it as though it only carries a five year maximum. A tough-on-crime stance buys some politicians votes, so it would be political suicide to reduce the maximum penalty from 14 years to five years.
In another example, a 46 year old man was accused of touching the vagina of his seven year old niece and then forcing her to perform oral sex on him until he ejaculated. The case was tried before a jury. The jury found him guilty of one count of 2nd Degree Criminal Sexual Conduct, a 15 year felony and one count of 1st Degree Criminal Sexual Conduct, a life offense. Because of the guidelines, his sentence on the CSC 2nd was 71 months and on the CSC 1st was 85 months. The judge's hands were shackled. He could not give the defendant the sentence he felt was appropriate. The net result is that in seven short years, we will have a child molester returning to our community.
The problems do not lie in just Criminal Sexual Conduct cases. The misguided guidelines have the same effect in several cases, including Home Invasion, Drug Dealing, Embezzling, Drunk Driving and Assault with a dangerous weapon.

EDITORIAL
RED AND BLUE AMERICA
By Maureen Rudel
I received a Christmas card from one of my favorite cousins, a Liberal Democrat, who has lived her whole life in the Washington, DC area. I have known her since we were kids because we are about the same age and her family has always had a cottage in the Tawas Beach Club.
My cards are printed with the name of my husband, myself and my dog. Hers had her name, her husband's and her daughter's. Underneath her daughter's name was written "Titania" in parentheses. This alarmed me greatly because I know that the name of her Sheltie is Jack. He's a great dog. I've babysat with him when my cousin and her daughter traveled to Stratford, Ontario, and he has adored me ever since.
With great alarm, I e-mailed her to ask what had happened to Jack and if Titania was also a Sheltie.
Her response started out with: "You are kidding, right?" From there on she explained that Jack was fine and that her daughter had played Titania in Midsummer Night's Dream this fall. In fact, the picture on her card was of her daughter and the weaver who had been bewitched and was temporarily given the head of an ass. (I didn't know what the picture was of, but I get a lot of strange Christmas cards. . .)
I explained to her that I had never really gotten into Shakespeare and, that every time I went to see a play, I fell asleep. I told her I really enjoyed "Escanaba in Da Moonlight" but didn't mention that I went to a matinee so I could stay awake.
She told me that Jack got a great bag of treats from the Gourmet Dog Biscuit store. They bake snowmen in parmesan cheese, Chinese fortune cookies with fortunes for dogs, squirrels with peanut-butter/carob flavor, etc. Jack loves their dog biscuits. (My dog was thrilled to receive pigs' ears and Milkbones.)
She went to one of her sisters' home for Christmas. They had a flaming beef tenderloin with Bearnaise sauce that was heavenly. I told her that I had cooked one of Erna Krueger's fresh turkeys, which everyone agreed was so much better than the frozen kind that there was no comparison.
She is anti-gun rights, I have a CCW. She thinks meat comes born in plastic wraps. I know what cattle look like. I am a "Red" American, supporter of George W. Bush. She is a "Blue" American, supporter of Al Gore.
We are both Americans. We can speak to each other without shouting or yelling at each other. We both want what is best for this country. There is a way to get it done. "Let's roll!"

EDITORIAL
Equal Justice Under the Law
by Maureen H. Rudel
Having been fortunate to have been old enough to have been saved from the benefits of "Affirmative Action" I am not a supporter of "special rights" for anyone. I believe that every person should proceed on merit and hard work with no advantage or disadvantage visited upon them by reason of their race, creed, color, national origin or any other specific characteristic which they possess by reason of their birth. I am not foolish enough to assert that this has always been the case in America -- having been old enough to have employers tell me they didn't hire women for "that job." (I always felt that was their loss.)
I am not for repealing laws which allow people equal opportunity to do anything. Actually they are redundant to the rights already guaranteed by the 14th Amendment. Which, by the way, was why I opposed the Equal Rights Amendment. I like the body of law which surrounds the 14th Amendment and feel no great need to start over.
I am, however, getting sick and tired of every politically correct effort to define another "victim" group to which to assign special rights. Soon, the only people left who will have to get or hold a job on the basis of merit and performance will be non-union, healthy, able-bodied, heterosexual white males, a distinct "minority group.
The news which set off this rant is an interview conducted on ABC 20/20 on September 5, 2001. (I didn't watch it, but read reports of it.) In the interview, a movie actress, Anne Heche, (who I have never seen in a movie) claims that she was insane for 31 years. While she recently married a man, she had a well-publicized lesbian relationship with another woman named Ellen DeGeneres, who I also have never seen. They were much touted by the press, and if I recall correctly, were feted at the White House by the former President and First Lady. If Ms. Heche was entitled to special rights while engaging in a sexual "behavior" while she was insane, does she lose those rights now that she has changed her mind and married a man? How would an employer know from day to day if preferences must be doled out? Is there a daily questionnaire? I don't care what anyone does in their own bedroom. I'm not in favor of persecuting people with whom I disagree, since I've never met anyone who agrees with me on everything, but I'm sick and tired of this politically correct movement which says you can't say anything which might offend anyone, and have to afford special consideration to anyone who claims "victimhood" -- except, of course the afore-mentioned white males. Of course, I might be considered prejudiced because I married a wonderful one of those 33 years ago, and wouldn't change him for the world.

EDITORIAL
A Way of Life in Danger
Maureen Rudel, East Tawas
I remember the first time I shot a real gun. Not my Lone Ranger silver cap pistols, not the BB guns my brother and I played with. A real gun. I was a skinny little girl (that's really true, for those of you who know me now) probably about ten years old. We lived in Davison, Michigan, then. My parents owned a nice tract of land with both trees and open areas. Pheasants were plentiful. We had Irish Setters then, and even though they had not been trained, they naturally pointed the pheasants.
My father took me along for the hunt. I still have the old double-barreled 12-guage shotgun he used. On this trip, he let me try. The bird flushed, I pulled the trigger, and the next thing I knew, I was laying on my back in the field looking up in the sky. Needless to say, I didn't get the bird.
There are strong forces who are working hard to make sure that your children and grandchildren will never be able to tell a story like this. The anti-gunners continue to try to raise the age for hunting and owning a gun. There is a method to their madness. The higher the age, the less likely it is that children will develop an interest in hunting. Think about how old you were when you went on your first hunting trip. I would bet it would not be legal now.
There is a world-wide movement to try to disarm private citizens. It is heavily promoted in the Socialist countries of Europe and what was the English Empire. The movement has always been supported by Totalitarian states like Nazi Germany and the USSR. America is considered a barbarian nation where all those "Cowboys" want guns.
At the end of July in New York, the United Nations will focus on trying to separate you from your weapons. The UN Disarmament Commission plans to try to regulate and eliminate the legal manufacture, commerce and ownership of weapons all over the world. A "Draft Programme of Action" setting forth these proposals already exists. The Second Amendment is a nuisance to these folks, not an "unalienable Right."
Even if you are not a gun owner, you must oppose these moves. Without the Second Amendment, the rest of the Constitution isn't worth the paper it's written on. The fact that so many of your neighbors are armed protects you as well -- your way of life depends on it.
THERE IS NO "LOCKBOX"
Editorial by Maureen H. Rudel
It is disconcerting to hear people say the federal government should "save Social Security first." The federal government cannot save money. It can only spend money. Let me explain.
At the present time, payroll taxes collected from current workers exceed the current cost of Social Security and Medicare payments to retirees. The extra money is called the "Social Security surplus." Unlike people, companies and even state governments, the federal government does not have a way to invest the money and earn interest. This is good, because a lot of mischief could be caused if Congress or the Executive Branch had the freedom to pick and choose the winners and losers in the market place. So, what happens to the excess money?
The so-called "Social Security Trust Fund" does not have a nickel of real money in it. It holds special bonds which cannot be sold on the market and which represent a debt from the government to itself. If the "Trust Funds" (and there are many of them) are the left pocket of a pair of pants, the right pocket holds the rest of the funds which flow through the federal government. When there is extra money in the left pocket, it is moved to the right pocket and replaced with an IOU. The money in the right pocket is spent on government programs and to pay interest on the national debt.
The debt is made up of two parts. The first part is the money that the government borrowed from the public through issuing treasury notes, bills and bonds (like savings bonds). Each of these bear an interest rate and the interest must be paid when it comes due. From time to time, each of these instruments expire and can be redeemed, just like a savings bond. The government then must pay the face value of the instrument as well as the interest due. In previous years, the government would then go out and borrow more money to replace the money it just paid out. Now that we have surpluses, the government is not borrowing from the public by issuing more debt instruments, it is borrowing from Social Security, Medicare and other trusts funds. These are the other part of the debt. This is why you hear politicians talk about paying down the "public debt." What they don't tell you is that the debt owed to Trust Funds is going up every year. The only way to pay that off is with future taxes.
The money that was once paid by a worker for Social Security and Medicare is then spent on other programs.
There are two ways to stop the theft of this money. One way is to lower the payroll taxes so they only bring in enough to pay off current retirees. However, this leaves a major problem for current workers when they become retirees, because there are simply not enough people who will be working when the baby boomers retire to pay the costs of their benefits and still have any money left to live on. It has been estimated that, if there are no changes to the systems, the baby boomers children and grandchildren would have to pay 85% of their income in taxes to cover the Social Security and Medicare payments to the boomers.
This is why the systems must be changed. The other way to stop the theft of the Trust Fund money is to effectively take it out of the government's hands. That is the purpose of creating individual accounts for younger workers. Since there is so much extra Social Security money coming in right now, the extra money could be used to establish separate accounts for current workers and still pay off the people who are already retired or are very close to retirement. The worker would have a choice of whether or not he wanted to stay on the old system or try the new system. If they went on the new system, a part of their social security taxes would be invested in an account in their names. They would be able to choose from a variety of safe investments -- all of which would produce much higher returns than the IOUs in the Social Security Trust Fund -- which now returns about 2%. The accounts belong to them, not the government, so they can't be spent and Congress does not get to decide whether it can change or lower the payments from those accounts as it can for regular Social Security. If the worker dies before he reaches retirement age, the private account would go to his family. Now, he loses it.
The rest of the Social Security payroll tax would be used to pay off current retirees and to maintain the death and disability insurance benefits that exist now.
The Medicare excess payments that are now being generated could be used to set up a different system. The one proposed by President George W. Bush would work like the system the federal employees have now. There would be a choice of policies or medical programs offered to each retiree. The recipient would be given an amount of money to apply to the premium for the program he chose. If the recipient wanted better coverage, he could add to the money he received and get it. If he wanted to get a policy which contained prescription drug coverage, (because he didn't have it elsewhere, for example) he could get it. If he decided to stay with the old Medicare, he could do it. The choice is in the hands of the citizen, not Congress and not a bureaucrat.
This is the approach that President Bush favors and so do I, because I know the truth.
There is no "Lockbox."

EDITORIAL OPINION
By Maureen H. Rudel
This is the most important election of my lifetime, 55 years. This election will most certainly determine, for a very long time, the future of America. While that may sound like an extreme statement, I do not believe it is. The last election which had as much impact as this one will was 1932, when FDR was elected for the first time. With that election, America started down the road to Big Government and Redistributive Politics. Whether it was a good or bad idea is something historians will decide. We are where we are.
Since FDR, the Democrat Party has moved further and further to the left. Now, I am not talking about your next door neighbor or the fellow you play cards with. Those every day Democrats vote Democrat because their parents and grandparents did. They pay no more attention to politics than most Americans. They get up every day, raise good kids, work hard, pay taxes and go to church, just like their Republican neighbors. They believe the "Big Lie" -- Republicans are the party of the RICH and Democrats are the party of the "Working People." That has not been true for years.
The Democrat Party is now being controlled by a group of very left-leaning politicians who agree with and are praised by the Socialist Party of America. Most people don't spend their days watching C-SPAN and don't have any idea what is going on in Congress or even in Michigan. They don't realize the assault on the Constitution which is being waged. The attack on the 1st Amendment, the right to practice your religion without interference by government, the right to free speech (hate crimes and politically incorrect speech), the assault on the 2nd Amendment (the right to keep and bear arms), and similar attacks on the 4th, 5th, 6th and 10th amendments abound.
What the Left cannot accomplish by legislation, it tries to get by litigation. Think of the suits against "Big Tobacco and the Firearms Industry. That is why the Left is so outraged by the present composition of the Michigan Supreme Court, rated by many the most Constitutional court in the country. They do not substitute their judgment for the legislature. They enforce the law as it is written and not as special interest groups would like it.
For the last 60 years, the Democrats have been dominant because they have controlled the redistricting process. It is amazing that Republicans have taken control of Congress and the Senate and have done so well in many states despite districts which have been set up to elect Democrats. This year, we have a chance to elect a Republican President, Senate and Congress. That will effect the choice of Supreme Court Justices. We need to keep control of the State House. We will finally have a fair chance at redistricting. You need to vote Republican. You need to get others to vote Republican.
Just remember, every Democrat is an opportunity. . . .

School Choice/School Voucher
Lights On, Still Nobody Home
David L. Nelsey, P.O. Box 2, Hale, MI 517-728-5833

During the past few years, you probably heard about school choice. This allowed parents to take their children out of one public school and enroll them in another school. Charter schools were formed at this time as a means of alternate education along with the easing of restrictions for parents to homeschool their children. This was a great step in the right direction towards returning the control of education to the parents where it rightfully belongs. However, after a court battle, the guidelines that governed charter schools were reduced to nothing more than public schools in a miniature size. Just a couple of differences were that the teachers did not necessarily have to be certified or belong to a teachers union. The best news was that parents now could homeschool without having to worry about the local school district dragging them into court. Why? I believe the opponents main reason was money. Oh sure, there are other reasons, but every time a school loses a child, they lose an average of $6,600.
In the months to come, you will be hearing about school vouchers. Again, this is an excellent opportunity for parents to control their children's education. And again, the opponents main issue is m-o-n-e-y! The people of today are more concerned about money than they are interested in the education of the children. Consider this, all you bean counters, if a school will lose $6,600 per student, the voucher that is issued to send the student to another school will only be worth $3,300. The balance could then be used elsewhere.
But when it comes right down to it, SHOULD money be the main concern here? I say no! What we should be concerned about is the quality of education our children receive in the form of curriculum. Gone are the days when the kids are taught "HOW" to think and replaced with telling them "WHAT" to think. Gone are the days when kid's learned respect. Why? Because the kids don't have respect for themselves let alone for others. Gone are the days when the kids learn about the true reason about how America was founded and the BIBLE inspired the Magna Carta and in turn inspired the writing of The Constitution. Today, it's "do your own thing", "if it feels good do it" and my favorite, "don't listen to your parents, they're old and don't know what is going on".
When will we as parents take back control of the schools by insisting the curriculum get back to the basics of reading, writing, and arithmetic instead of reading, writing, and reloading? If we continue to let the government and judicial system run the education system, then we should expect the future to bring an end to Democracy as we know it and a Socialist Government be instituted, followed by a Dictatorship. Look closely! The leaders of tomorrow are learning in school today!

LET'S DO SOMETHING FOR THE ADULTS
by Maureen Rudel, East Tawas
Every time this administration comes up with another half-baked idea for a new entitlement, a new program, a new restriction on the freedoms that Americans are entitled to enjoy -- if only we could go back to a Constitutional government, the mantra "We're doing it for the CHILDRUN" is used.
The tobacco bill was NOT done for the children. It was done to seriously affect a group of donors who typically supported Republicans. It has been illegal in all states for years for children to buy cigarettes. Enforcing the law, however, would put personal responsibility on those who broke it. This would not bankrupt the cigarette companies, the ultimate objective.
The attacks on the gun industry are NOT done for the children. They, again, are done to attempt to bankrupt an industry which typically supports Republicans. The shameless pandering over the tragedy in Littleton is truly egregious. The two miscreants who did the shooting broke 16 to 20 laws. No matter how many more laws we pass, it would not have stopped these two. They had already been in trouble. They had been thrown out of school. They fooled their counselors into thinking they had seen the error of their ways all of the time they plotted their rampage. They were responsible, no one else.
(It is also interesting that the main beneficiaries of the attacks on tobacco and guns are the trial lawyers, typically Democrat supporters.)
Clinton decided to start a war using NATO, theoretically a DEFENSIVE alliance, to make sure the children of this country would not have to grow up in a bad world. He, therefore, bombed a whole bunch of other children, displaced hundreds of thousands of other children -- so sorry, "collateral damage" -- and it was NOT for the children. It was to distract America from the unbelievable revelations about how his administration sold us out to the Chinese Communists.
While I could go on and on about the travesties that have been committed in the name of the children, I would like to suggest that the Republicans stop shaking in their boots and cowering every time the Democrats yell about the "childrun." Instead, Republicans should do something for the ADULTS who vote and pay the bills. They should stand on individual responsibility, stand for freedom from the Nanny State, and stop funding the Socialist programs that have been embedded in our government by years of Democrat rule.
Let's do it for the "Adults."

GUEST EDITORIAL
PROPOSED SEAT BELT LAW
By Mary P. Smith, Oscoda
Every citizen in Michigan should rise up in opposition to the Primary Seat Belt Law now under consideration for a vote in the Michigan House of Representatives.
This terrible law surprisingly passed in the Republican controlled Michigan Senate. The law is another example of government intrusion in its citizens' lives. It would allow law enforcement officers to stop a motor vehicle and ticket the driver if the driver or passengers in the front seat are not wearing seat belts. Do you want officers looking into your vehicle for a reason to stop you on the road? Do we need officers protecting us from ourselves?
This law would give over-zealous or unscrupulous law enforcement officers authority to harass certain citizens. And, we know that will happen.
Our Republican State Senator Walter North voted against this bill, but managed to amend it so it applies only to persons in the front seat. The original bill applied to all persons in the vehicle. Senator North said this legislation allows government too much intrusion in personal choices. He is to be applauded for his stand on this law.
If you agree this is a bad law, you should write to the Speaker of the House, Charles Perricone and to members of the Michigan House of Representatives and urge them to reject this bill.

GUEST COLUMN
GOVERNMENT AND TAXES
By an East Tawas Resident
1. Everything of value that you receive from a government has been taken from some person at the point of a gun. If you do not believe this, try not paying your taxes and see how long it takes before the men with guns are at your door to take you to prison.
2. Corporations do not pay taxes, only people pay taxes. Corporations are artificial entities. The only money they receive comes from shareholders or consumers of their products. The money they pay out in taxes comes from consumers (through higher prices for products or services), shareholders (through lower returns on investment) and employees (through lower wages). Conflict arises between these groups with respect to how these taxes will be apportioned. A corporation is simply a conduit designed to funnel money from people to the men with the guns (government).
3. Democrats and Socialists do not understand these concepts. Communists do understand these concepts and have chosen to do away with the complications inherent in item 2.
Revised: